Teodora Mihoc
Table of Contents
---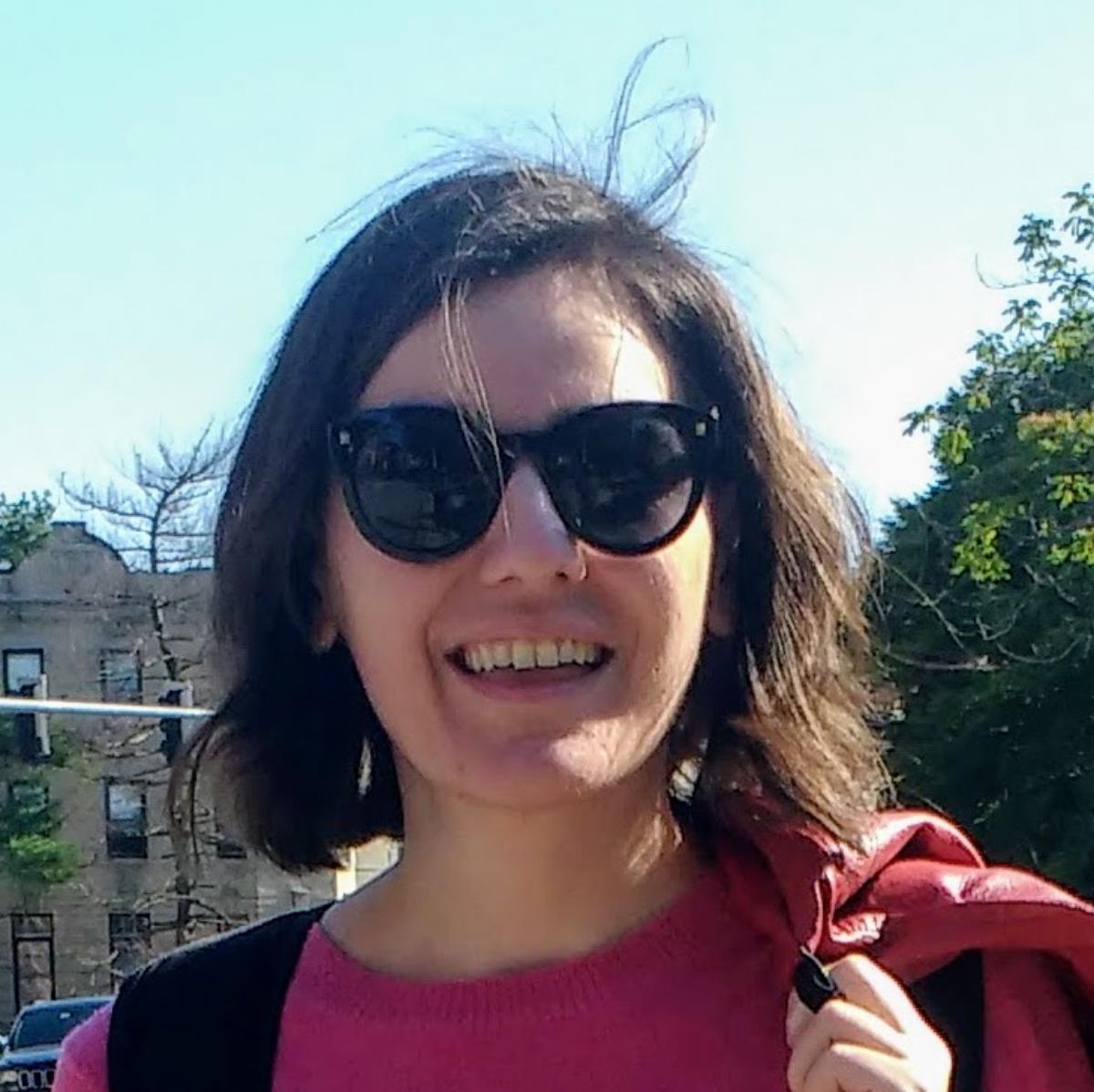 About
I am a linguist interested in formal, experimental, and computational modeling approaches to natural language semantics and pragmatics and in both fundamental and applied research.
In most of my recent and ongoing work I focus on investigating empirical and theoretical similarity with respect to free choice, polarity sensitivity, and scalarity across different categories of meaning—numerals, disjunction, indefinites, aspectual operators, etc. In other work I also tackleh issues related to evidentiality and modality.
For more details see my industry resume or my academic CV and visit me on Google Scholar, LinkedIn, or GitHub.
Education
| | |
| --- | --- |
| 16-22/06/2012 | North American Summer School of Logic, Language, and Information (NASSLLI), U of Texas at Austin |
| 2010-2011 | Mandarin Chinese language course, Beijing Language and Culture U |
| Spring 2009 | Erasmus exchange term, Aristotle U of Thessaloniki |
Employment / Affiliation
| | |
| --- | --- |
| 03/2021-present | Research affiliate (visiting scholar), Centre de Lingüística Teòrica, Universitat Autònoma de Barcelona |
| 07/2019-present | Research affiliate (associate of the department), Dept of Linguistics, Harvard U |
| 01-05/2020 | Linguistics instructor, Harvard Extension School |
| 09/2019-05/2020 | Assistant Head Tutor, Dept of Linguistics, Harvard U |
| 06/2016-05/2018 | Lab manager, Meaning and Modality Lab, Dept of Linguistics, Harvard U (PI: Kathryn Davidson) |
| 09/2015-05/2017 | Teaching Assistant and Tutorial Instructor, Dept of Linguistics, Harvard U |
| 09/2012-08/2013 | Research Assistant, Dept of Linguistics, U of Ottawa (PI: Maria Luisa Rivero) |
| 09/2011-05/2012 | Teaching Assistant, Dept of Linguistics, U of Ottawa |
| | |
| --- | --- |
| 2007-present | Freelance English-Romanian translator and interpreter; academic English proofreader, copyeditor |
| 05-06/2011 | English as a Second Language (ESL) instructor, The Affiliated High-School of Peking U |
| 2002-2009 | English as a Second Language (ESL) tutor |
Research
Papers
(* = first author or equal contribution)
in reviewing cycles at journals
in abstract-reviewed conference proceedings, and other
| | |
| --- | --- |
| to appear | Teodora Mihoc. Modified numerals and polarity sensitivity: Between O(nly)(DA) and E(ven)(SA). In Proceedings of Sinn und Bedeutung (SuB) 25. |
| to appear | Teodora Mihoc* and Kathryn Davidson. Superlative-modified numerals and negation: A multiply negotiable cost. In Proceedings of Experiments in Linguistics Meaning (ELM) 1. |
| to appear | Aurore Gonzalez* and Teodora Mihoc*. A neo-Carlsonian approach to bare plural nominals in Romanian and French. In J. Sturm (ed.), Harvard Working Papers in Linguistics 14. |
| 2020 | Teodora Mihoc. Ignorance and anti-negativity in the grammar: or/some and modified numerals. In M. Asatryan, Y. Song, and A Whitmal (eds.), Proceedings of The Annual Meeting of the North East Linguistic Society (NELS) 50. |
| 2019 | Teodora Mihoc*, Diti Bhadra, and Anamaria Fălăuş. Epistemic modals, deduction, and factivity. In K. Blake, F. Davis, K. Lamp, and J. Rhyne (eds.), Proceedings of Semantics and Linguistic Theory (SALT) 29, pp. 351-70. |
| 2014 | Teodora Mihoc. The Romanian future-and-presumptive auxiliary. In B. Buccola, M. Hamilton, A. McKillen, and J. Tanner (eds.), McGill Working Papers in Linguistics 24(1), pp. 64-80. |
| 2013 | Teodora Mihoc. The Romanian Presumptive Mood: The key to the Romanian will-Future. Cahiers linguistiques d'Ottawa/Ottawa Papers in Linguistics, 38. |
| | |
| --- | --- |
| 2017 | Akshat Agrawal* and Teodora Mihoc*. Numeral-negation scope endorsement asymmetry: An alternative Rational Speech Act (RSA) model. |
| 2015 | Georgian tu: A ka particle. |
Presentations
(talks and posters)
(* = first author or equal contribution)
(A = abstract; H = handout; P = poster; S = slides; V = video)
| | |
| --- | --- |
| upcoming, 2021 | Teodora Mihoc. Polarity sensitivity across domains. Talk @ Workshop: The meaning of functional categories in the verbal / sentential domain (Neg / Asp / Voice / Deg / little v), Universitat Autònoma de Barcelona, June 17-18. |
| 2021 | Teodora Mihoc. Singular, plural, modal. Poster @ Linguistic Symposium on Romance Languages (LSRL) 51, U of Illinois at Urbana-Champaign (online), Apr 29-May 1. (A) (P+V) |
| 2021 | Teodora Mihoc. Aspectual operators and polarity sensitivity. Talk @ Generative Linguistics in the Old World (GLOW) 44, GLOW Board (online), Apr 15-17. (A) (S) |
| 2021 | Teodora Mihoc. Negative comparison between exactness, ignorance, and evaluativity. Talk @ Penn Linguistics Conference (PLC) 45, U of Pennsylvania (online), Mar 19-21. (A) (S) |
| 2020 | Teodora Mihoc. Epistemic indefinites, number marking, and certainty. Talk @ Sensus 1, UMass Amherst, Apr 18-19 Sep 26-27. (A) (S) |
| 2020 | Teodora Mihoc* and Kathryn Davidson. Superlative-modified numerals and negation: A negotiable cost. Talk @ Experiments in Linguistic Meaning (ELM) 1, U of Pennsylvania, June 10-12 Sep 22-24. (A) (S+V) |
| 2020 | Teodora Mihoc. Modified numerals and polarity sensitivity: Between O(nly) and E(ven). Talk @ Sinn und Bedeutung (SuB) 25, U College London / Queen Mary U of London, Sep 3-5. (online) (A) (S+V) |
| 2019 | Teodora Mihoc. Ignorance and anti-negativity in the grammar: [or/some] and modified numerals. Talk @ The Annual Meeting of the North East Linguistic Society (NELS) 50, MIT, Oct 24-27. (A) (S+H) |
| 2019 | Teodora Mihoc*, Diti Bhadra, and Anamaria Fălăuş. Epistemic modals, deduction, and factivity. Talk @ Semantics and Linguistic Theory (SALT) 29, UCLA, May 17-19. (A) |
| 2019 | Teodora Mihoc. Ignorance and polarity sensitivity in modified numerals and beyond. Poster @ Workshop: The meaning of numerals: cognitive, experimental, and semantic perspectives, ZAS, Berlin, Mar 27-28. (A) (P) |
| 2018 | Teodora Mihoc. The alternatives of bare and modified numerals. Talk @ Rencontres d'Automne de Linguistique Formelle (RALFe), U Paris 8 / CNRS, Dec 6-7. (A) (S) |
| 2017 | Teodora Mihoc* and Kathryn Davidson. Testing a PPI analysis of superlative modified numerals. Talk @ Experimental Pragmatics (XPrag) 7, University of Cologne, June 21-23. (A) (S) |
| 2017 | Aurore Gonzalez* and Teodora Mihoc*. Bare nominals in French and Romanian. Talk @ Linguistic Symposium on Romance Languages (LSRL) 47, U of Delaware, April 20-23. (H) |
| | |
| --- | --- |
| 2021 | Teodora Mihoc. Ignorance and positive polarity in indefinites, disjunction, and numerals. Talk @ Centre de Lingüística Teòrica, Universitat Autònoma de Barcelona, May 21. (S) |
| 2021 | Teodora Mihoc. From Chomsky through Confucius to Montague and Grice (Or what I've been up to since I left LBUS). Talk @ Lucian Blaga U of Sibiu, May 17. |
| 2018 | Teodora Mihoc. Modified numerals between polarity and valence. Talk @ Laboratoire de Linguistique de Nantes, CNRS/University of Nantes, Dec 3. (S) |
| 2018 | Teodora Mihoc. An extent-based GQT-style unified implicature account of bare and modified numerals. Talk @ Institute for Logic, Language, and Information, U of Amsterdam, June 12. (S) |
| 2014 | Teodora Mihoc. The broader epistemic future. Talk @ Commitment phenomena through the study of evidential markers in Romance languages, University of Neuchâtel, Sep 5. (S) |
| | |
| --- | --- |
| 2018 | Teodora Mihoc. Scope asymmetry, QUDs, and exhaustification. Talk @ LingedIn, Harvard U, May 4. (H) |
| 2017 | Teodora Mihoc. Decomposing bare and modified numerals. Talk @ LingedIn, Harvard U, Dec 7. |
| 2016 | Teodora Mihoc. More evidence of heterogeneity in the class of comparative and superlative numeral modifiers. Talk @ Language and Cognition group meeting, Harvard U, Nov 29. |
| 2016 | Teodora Mihoc. More evidence of heterogeneity in the class of comparative and superlative numeral modifiers. Talk @ Experimental Syntax & Semantics Lab / Language Acquisition Lab Meeting, MIT, Oct 18. |
| 2016 | Teodora Mihoc. More evidence of heterogeneity in the class of comparative and superlative numeral modifiers. Talk @ LingedIn, Harvard U, Sep 30. |
| 2016 | Teodora Mihoc. Confessing ignorance. Talk @ LingedIn, Harvard, April 20. |
| 2015 | Teodora Mihoc. Romanian Bare Nominals and Derived Kind Predication. Talk @ Southern New England Workshop on Semantics (SNEWS), Harvard U, Nov 21. |
| 2015 | Teodora Mihoc* and Alexander Klapheke. Two sets of alternatives for numerals. Talk @ East Coast Graduate Student Workshop (ECO-5), Harvard U, Apr 11. |
| 2013 | Teodora Mihoc. Romanian presumptivity: The future case in point. Talk @ Southern New England Workshop on Semantics (SNEWS), MIT, Nov 16. |
| 2013 | Teodora Mihoc. The Romanian presumptive mood and the key to the Romanian will-future. Talk @ Toronto-Ottawa-Montreal Workshop on Semantics (TOM) 6, McGill U, Mar 23. (S) |
Teaching
(F = Fall; S = Spring; W = Winter)
| | |
| --- | --- |
| S2020 | Introduction to Linguistics (full semester course). Harvard Extension School. (syllabus) |
| S2017 | The semantics and pragmatics of numerals (half-semester sophomore tutorial). Harvard U. (syllabus) |
| S2016 | Logic in Linguistics (half-semester sophomore tutorial). Harvard U. (syllabus) |
| F2015 | Inquisitive Semantics (half-semester junior tutorial). Harvard U. (syllabus) |
| | |
| --- | --- |
| F2017 | Semantic Theory I. Instructor: Kathryn Davidson. Harvard U. |
| F2017 | Language, Structure, and Cognition. Instructor: Kathryn Davidson. Harvard U. |
| F2016 | Language, Structure, and Cognition. Instructor: Kathryn Davidson. Harvard U. |
| S2016 | Language, Structure, and Cognition. Instructor: Kathryn Davidson. Harvard U. |
| F2015 | Syntactic Theory I. Instructor: C.-T. James Huang. Harvard U. |
| W2012 | Writing Systems. Instructor: Marie-Claude Séguin. U of Ottawa. |
| W2012 | Les langues dans le monde. Instructor: Andrés Pablo Salanova. U of Ottawa. |
| F2011 | Introduction to Linguistics. Instructor: Robert Truswell. U of Ottawa. |